President's
Message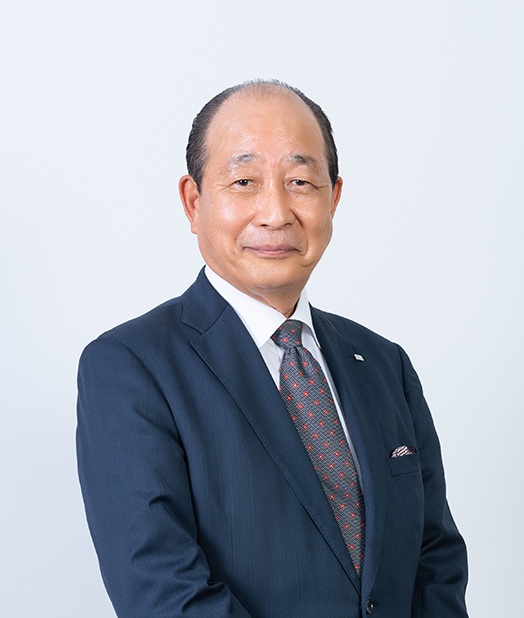 Our group will contribute to a society where all can thrive.
Since our founding in 1947, we have continually engaged in strictly ethical business practices on the premise of a sense of justice and pride, and for many years we have endeavored to offer safe, secure, and high-quality products.
The Chifure Group currently consists of six entities: Chifure Holdings Corporation, Chifure Corporation, Japan Organic Corporation, Eye mate Co., Ltd., Azalea Corporation, and Elfen Sports Club Inc. It engages in the development, manufacture, and sale of cosmetic products; the manufacture and sale of resin molds such as cosmetic product containers and sales fixtures; and the management of the women's professional soccer team Chifure AS Elfen Saitama.
In May 2021, we joined the Japan Business Federation, and we diligently comply with its Charter of Corporate Behavior, which aims to realize a sustainable society. After all, we have engaged, since before the term SDGs even existed, in the development, manufacture, and sales of Chifure environmentally friendly products, such as resource-saving and chlorofluorocarbon-free items; further evolution and spread of refillable cosmetics; development of organic cosmetics certified by the world's largest international organic certifying body; development of natural cosmetics made with more than 90%* naturally derived ingredients (including water), according to our proprietary standards; and support for female soccer players and entrepreneurial-minded women.
The Chifure Group, for its part, has instituted its commitment to the SDGs. Of the 17 goals, we are proactively working on our top priority issue, (5) Gender Equality, as well as six other issues we consider to be particularly important: namely, (7) Affordable and Clean Energy, (8) Decent Work and Economic Growth, (12) Responsible Consumption and Production, (13) Climate Action, (14) Life Below Water, and (15) Life on Land.
In closing, the Company celebrated its 75th anniversary in September 2022, and in 2023 the Chifure brand marks 55 years. We will continue to refine the Chifure Group's unique value and, through a variety of cosmetics items and services developed from the customers' perspective, more powerfully promote the creation of a social culture where every individual can enjoy a spiritually rich life. We look forward to your continued support and cooperation.
Masakazu Kataoka
President